Scandinavian inspired interiors, community managers, interactive technology, and even a foosball table—there is a lot to like at work.able.
The world is changing, and with it, our work spaces. No longer are individuals limited to the traditional 8-to-5 office hours or confined to the white-walls-with-a-desk type of environment. In these times when you can crunch numbers like a boss while sitting in a café or dream up the next big startup while grabbing a bite with friends, flexible offices are all the rage. Because, let's face it, digital nomads still require a place to park their feet and laptops—preferably by a windswept beach, mojito in hand—but not all of us can be so lucky. The next best thing would be a kind of urban oasis, something that's part office and part café, part work and part play. A place with sparkly vats of coffee.
One such co-working space has caught our attention, both for its posh aesthetics and flexibility. Derived from the words work and enabler, work.able describes itself as a "community of forward thinkers and people who can help you get things done." It's located at Cyberscape Gamma, a newly-built structure in Ortigas.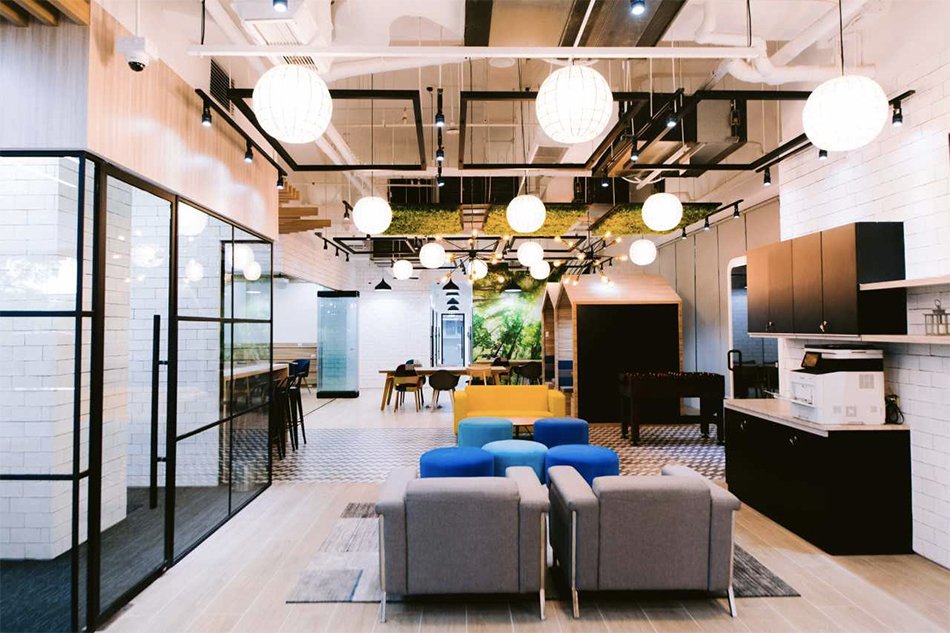 Hot desks and fun games
Inside, work.able is a refreshing, well-lit space designed tastefully with a combination of Scandinavian and industrial design elements. Just past the reception area is the main co-working space occupying around 200 square-meters. Off to the side is the bar with coffee machines and, infused water. There's also a foosball table nearby where you can relax before getting down to business.
Depending on your working style or needs, work.able can provide a number of work station solutions. As work.able caters to start-ups, freelancers, and even corporations looking for extra space for seasonal manpower, flexibility is the name of the game. If you're comfortable working alongside others, you can choose to sit at any "hot desk" in the open-plan seating area. If you prefer having a space where you want it reserved for you, there are dedicated desks with storage drawers for your laptops and other belongings. For those who need the utmost privacy or prefer to work in a quiet environment, there are two-seater office suites available.
All in all there are 131 seats in the private offices. Those leasing the suites for at least 30 days have added perks like a mail and package handling service, the use of a business address based on guidelines, meeting room hour credits plus printing, photocopying and scanning credits, among others. work.able's hours are from 8 a.m. to 7 p.m., Monday to Friday, but these long-term clients will have access to the facility 24/7, in case they need to retrieve items like a laptop or cellphone. Perhaps the best part is that the utilities are included in the rates, so there's no need to worry about paying for power and water, usage in the building.
Better together
Aside from the previously mentioned spaces, work.able has four acoustically treated meeting rooms. The largest, which can accommodate 14 people, can double as a boardroom. It also has large Events Space for 40 people complete with bleachers, tables, and chairs. It was designed as a two-in-one space: it's a co-working space, but it can be enclosed and serve as a Town Hall.
Here, presentations are state of the art, as they're done on the supplied Flip, a digital flipchart or through the interactive projector. You can edit your file straight from the flip or on the wall where the file is projected to. For events or gatherings which require more space, they can book the Town Hall plus the whole co-working spaces which can accommodate a total of 100 people.
One of the buzzed about benefits of co-working spaces is that they're conducive to collaboration. Whether you're working alone or with team members, a co-working space gives you the opportunity to interact with other people. There is a ready exchange of ideas, feedback, and solutions. At work.able, there is dedicated Community Manager and Community Associate are also around to help you can network. Members can attend events, talks, and seminars where they can socialize, establish connections, and plan collaborations with other members.
(Source: https://news.abs-cbn.com/ancx/style/style-profile/01/31/19/this-impressive-and-dynamically-designed-flexible-office-is-worth-checking-out, January 31 2019)